Since the late 80s, SKF has been actively transforming its processes and supply chains to be more sustainable – but after the increasingly pressing climate crisis and non-appealable effects on the planet and humanity, SKF decided to sharpen its sustainability goals even more. In June 2020, the company announced its plans to fully reduce greenhouse gases by 2030. To achieve this, SKF is committing to a five-year plan and aims to achieve some ambitious, yet flexible targets that are adaptable to new technology and government regulations. The first version of the progress report was published in October 2021. Now, the company presents the revised version with some adaptations.
Big plans ahead
Before taking suitable measures to reduce CO2 emissions, it is vital to analyze how emissions occur. In the 2021 version of the report, SKF estimated its total emissions at 1,8 million – based on data that has been conducted through life cycle assessments since the early 2000s. In the newly published report, SKF revised this figure after learning that some of these emissions have been caused by the sourced steel used in the company's manufacturing processes. The total emissions per year are now at 2 million, with 950,000 tons originating from the processing of direct material (like steel). Note that this does not mean that more emissions occurred, but rather that SKF now has a better grasp of the entire scope.
To reduce this amount of emitted CO2 to zero until 2030, SKF established a five–step plan with actions that are supposed to create the biggest impact. With this agenda item, SKF aims to become a sustainability leader within the industry. For this to happen, SKF pledged to:
Expand its clean technology business and switch to renewable energy consumption.
Improve energy and material efficiency in its operations and supply chain.
Offer more solutions to reduce customers' environmental impact and energy use.
Aid customer transition towards a circular, decarbonized business.
Achieve its own target: decarbonized operations throughout the entire value chain (from raw material to finished product), by 2050.
In 2021, SKF also joined the "Science Based Target initiative" (SBTi), committing to the Paris Agreement targets to achieving net zero emissions by 2050 and reducing global warming to 1.5 °C. In the past year, the company was able to minimize its energy use and emissions in manufacturing, whilst increasing turnover – a truly huge success! Still, the factor that contributes most to SKF's carbon footprint is the one that is the least influenceable: the sourcing of steel for manufacturing purposes.
Sustainable steel?
Looking at the summary of SKF's yearly emissions, it shows that almost 50 percent are caused by sourcing direct materials like steel.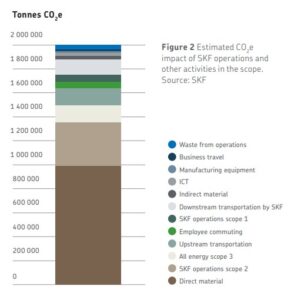 The amount of carbon emissions caused by steel production is not surprising, given that the industry has yet to realize a suitable decarbonization strategy to be truly sustainable. To this date, primary steel production involves melting iron ore in 1,700 °C heat, mostly with the help of coal which currently meets around 75 percent of the sector's energy demand. Considering the industry's dependency on non-renewable materials like iron and coal, it is not surprising that the sector is responsible for 7 percent of the global CO2 emissions.
To make a big step towards net zero, the industry will have to transform the way steel is produced. This means accelerating electrification, using hydrogen-based production, and incorporating carbon capture, utilization, and storage (CCUS).
SKF's possibilities on helping the steel industry transform are limited. However, the company wants to help and thus joined initiatives like SteelZero and ResponsibleSteel to fight for a more sustainable steel production. Together with other industrial steel consumers, SKF is advocating for the necessary structural changes in the industry.