Testing some of the world's largest roller bearings during operation is a difficult task, given the extreme weather conditions, loads, and emergency events they are exposed to. Either the test rigs are not large enough or they cannot sufficiently replicate the complex conditions under which the bearings operate. Therefore, simulation software that mimics the conditions in a digital environment is indispensable – but even these fall short of providing the full range of field-testing insights.  
That's exactly why the Sven Wingquist Center was opened in 2017. It is the only center in the world that can test large bearings with diameters typical of wind turbines under dynamic conditions. At the center in Schweinfurt, Germany, SKF aims to expand its research capabilities: This way, new large bearing technologies can be developed more quickly. It also speeds up the validation process of manufacturing processes. All this can contribute to minimized risks and reduced costs. With this, wind power bearings can be made more efficient, reliable, and prepared for the growing demands of the wind industry.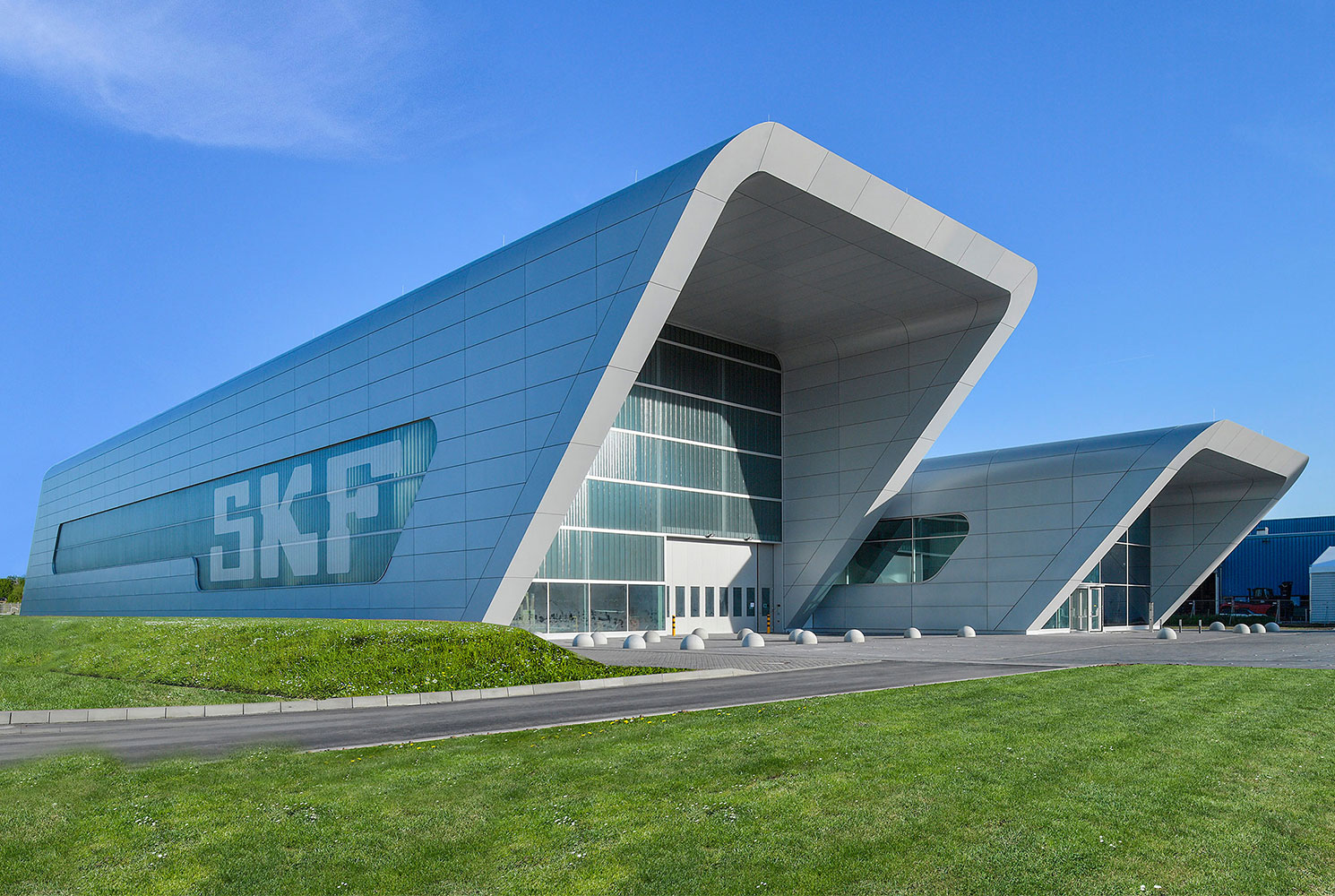 Extreme tests for extreme environments
The center consists of two test rigs. The larger of the two, the main shaft test rig, tests large-scale bearings for wind turbines with a maximum diameter of six meters (m). Its hydraulic system replicates the operating conditions of the world's largest wind turbines. Here, a seven-meter-long, 125-ton rotating shaft, and 64 cylinders exert enormous force on the components during testing, analyzing the bearings' response to a wide range of conditions. 
Main shaft rig features:
– Ability to test bearings up to 6m in diameter
– Overall dimensions of 9m x 11m x 8m
– Weight of 700 tons
– 64 radial and axial cylinders
– Rotating shaft with 7m diameter and weight of 125 tons
– Radial-axial loads of 8 meganewton (MN)
– Bending moments of up to 40 meganewton-meter (MN-m)
– Speeds of 30 revolutions per minute (RPM) 
The second rig tests bearings of up to two and a half meters in diameter. Though smaller than the main shaft rig, it is fitted with a special lubrication system from SKF. This ensures the bearings are optimally lubricated, as well as deliberately apply wrong levels of lubrication to observe how the bearings react. During this process, the lubricating oil can be heated to around twice the temperature of standard test equipment. The test rig is thus not only used for wind turbine bearings, but also to test bearings for the shipbuilding, mining, cement, and steel industries. 
Dynamic development test rig features:
– Ability to test bearings up to 2.5m in diameter
– 130-ton test head
– Four axial and 2 radial cylinders
– Rotating speeds of 200 RPM
– Capacity of 3,000 liters of lubricant
– Radial loads up to 7 MN
– Axial loads up to 3 MN
– Bending moments up to 10 MNm 
The two test rigs can also test the longevity of bearings and time-related wear. 20 years in operation can be simulated over just a few weeks or months. This obviously accelerates product testing and saves on cost and energy consumption. Encompassing a green building concept, the test center was able to achieve LEED (Leadership in Energy and Environmental Design) Gold certification.  
Contributing to a greener world
LEED is a global certification system for green buildings. To qualify, buildings must reduce energy and water use, generate less waste, and promote health. At the Sven Wingquist Test Center energy could be saved through the accelerated mapping of wear and tear, due to the testing process being cut enormously. On top of that, a heat recovery system is connected to the center, which feeds the excess heat generated during testing back into the building itself as energy or sends it to a nearby SKF plant. These plans have led to construction being supported by the German government: The Bavarian Ministry of Economic Affairs and Media, Energy and Technology funded the larger test rig to the tune of 1.9 million euros, while the German Federal Ministry for the Environment, Nature Conservation, Building and Nuclear Safety contributed 1.6 million euros to the smaller test rig.  
For the wind industry, the Sven Wingquist Test Center represents a great opportunity. The extreme conditions to which the components can be subjected, and the accuracy of the test rigs allow findings to be obtained that were not possible with previous methods. This information is then incorporated into the development and design of new SKF bearings: The data can be used to create a digital twin, which then serves as the basis for simulation software. In this way, roller bearings can become more durable, reliable, and efficient in the future – and help make the wind industry even more sustainable and economical.