Competition in wind energy is undoubtedly a good thing. The rise of renewables foreshadows our decreasing dependency on fossil fuels. But for the wind farm operators themselves, growing competition equates to increasing pressure and dwindling margins. It means that an industry defined by efficiency finds itself searching for ever greater performance gains and more economic breathing room.
The rapid rate of technological innovation in the wind sector complicates things further. The old industry joke is that each turbine is a prototype can still ring true. When every unit is different, even if only slightly, supply chains can become messy and maintenance cycles might stretch out, curtailing profits. Analysts at SKF and Boralex – Canada's market leader and France's largest independent producer of onshore wind power – have developed a single solution to streamline both maintenance and supply chain.
The solution, called the Wind Reliability Dashboard, is part monitoring station, part supply chain controller. Built on the back of SKF's existing condition monitoring system, the Wind Reliability Dashboard tracks component performance, estimates the remaining lifetime of those components, and streamlines the replacement process. The goal is to "Optimize stock planning and to reduce overall cost," according to Jan Lavender, Product Manager of Supply Chain 4.0 at SKF.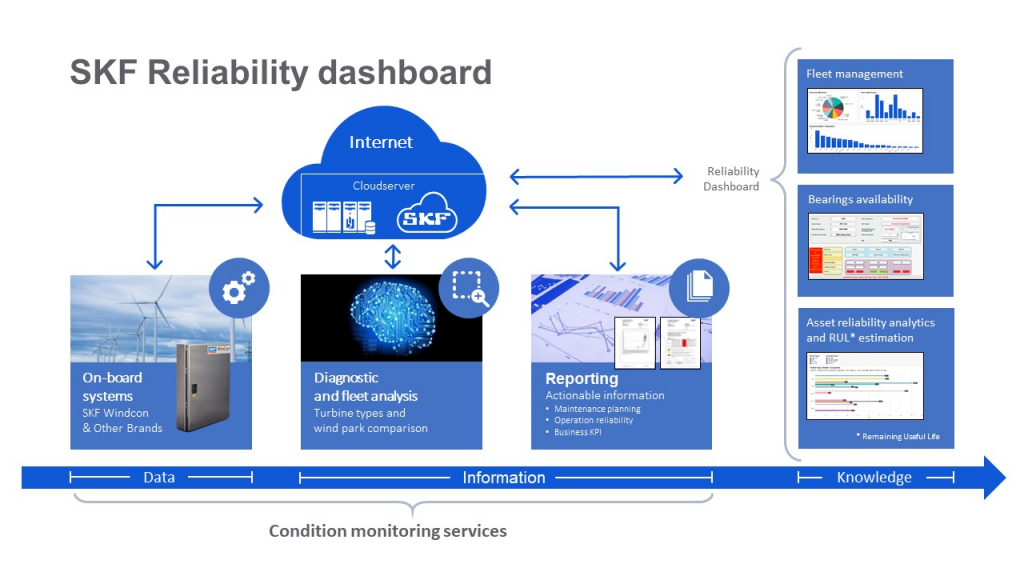 Boralex is already testing the Wind Reliability Dashboard, having worked with SKF engineers to develop the project. "The dashboard allows operational and business management teams to communicate far more effectively about critical turbine maintenance and planning issues," says Jonathan Day, Analytics and Digitalization Developer at SKF. "It also makes it easier to identify and predict drive train issues, manage spare parts logistics, and reduce risk by enabling data-driven decision making."
The idea, in short, is predictive maintenance. And that old adage, If it ain't broke don't fix it, might no longer apply.